EDIT MAIN
PRINCIPAL'S PAGE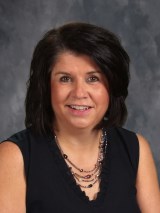 Mrs. Seegmiller is an Arthur High School graduate. She and her husband chose to move back to Arthur and raise their family here twenty plus years ago. She has a Bachelor's of Science Degree in Elementary Education from Southern Illinois University and a Master's of Arts Degree from the University of Illinois at Springfield in Educational Administration. Two of their four children have graduated from Arthur High School and their twins are future alumni.
Throughout the last fourteen years, she has worked for National Louis University, Bradley University, the University of Illinois and, most recently, as the Coordinator of Clinical Practice at Millikin University. These opportunities have placed her in many area school districts with the opportunity to collaborate with classroom teachers to prepare teacher candidates to become lifelong learners and educators of excellence. She has supervised student teachers and taught education courses to prepare students to teach at all P-12 levels in all disciplines. From tackling the Danielson model to presenting at the national edTPA conference, she is passionate about education and supporting teachers as they practice a profession that demands the best for their students. Mrs. Seegmiller also served District #305 for seven years as a school board member. She enjoys cooking, traveling and reading as well as being with her family. She is an active member of the Arthur United Methodist Church.
John Dewey said, "If we teach today's students as we taught yesterday's, we rob them of tomorrow." A school culture where faculty and students thrive is one that works to engage students and is brave enough to take risks, to reflect on our work, to acknowledge and learn from mistakes, rise to try again, and celebrate progress and successes. This is how Mrs. Seegmiller believes we should teach today's students. It is her goal to support students, teachers and families in our classrooms to deliver the best education possible to every student that calls District #305 home.